dvdSanta is an All-in-One software that lets you copy, create, convert and burn your DVD movies. It can copy 9GB double layer DVD movies into a 4.7GB DVD-R disc, can turn your photos into DVD movies with Hollywood style motion effects, can convert other video formats(avi, wmv, vob, asf, DivX, Mpeg,…) into DVD video, can transfer miniDV camcorder tapes directly to DVD video. dvdSanta is extremely easy to use, fast and powerful.
Related guides:
How to Convert XviD to DVD, WMV to DVD?
How to Copy DVD Movies?
How to transfer digital camcorder tapes to DVD movies?
Here are the things needed for this job:
1. a digital Camcorder.
2. a PC with IEEE 1394 (Firewire) port, running Windows 2000 or Windows XP. In order to do the real-time DVD conversion, you PC should be Fast Enough, which means the PC should have at least a Pentium 4 2.0GHz or faster CPU, at least 256MB RAM, and at least 5GB free hard disk space.
3. an IEEE 1394 cable.
Step 1, Connect an IEEE 1394 (Firewire) cable to miniDV Camcorder.
Connect an IEEE 1394 (Firewire) cable to your miniDV camcorder. Turn on your camcorder and switch the mode to VCR mode.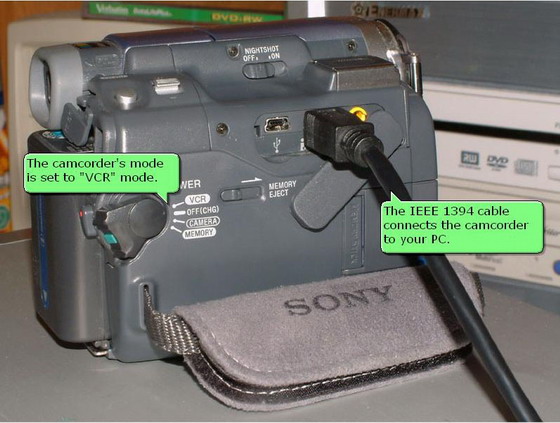 Step 2, Connect the IEEE 1394 (Firewire) cable to your PC's IEEE1394 port.
Connect the other end of the IEEE 1394 (Firewire) cable to your PC's IEEE 1394 port. (If your PC does not have IEEE 1394 port, you will need to purchase and install an IEEE 1394 card on your PC.)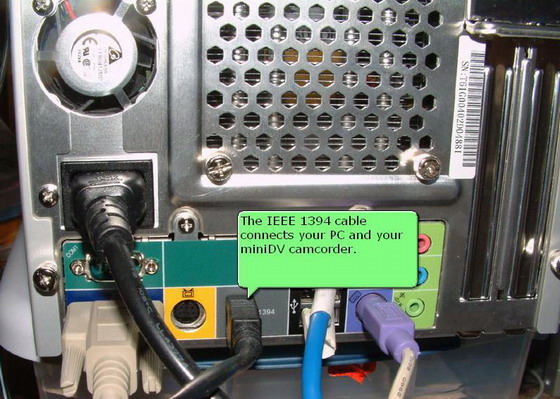 Step 3, Run dvdSanta and burn the DVD.
Run dvdSanta, click the "Digital Camcorder Direct to DVD" button.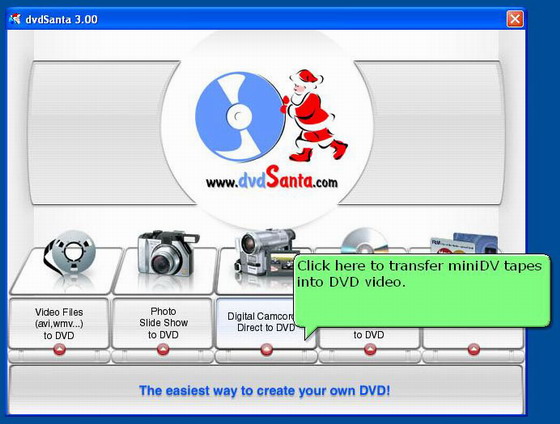 Use the buttons on the left side to control your camcorder. You can play, stop, rewind your tape. If you want to transfer a whole tape, click the "Rewind" button to rewind the tape to its beginning.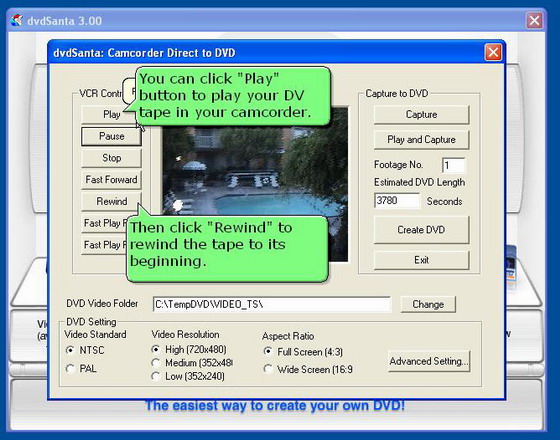 Then, click "Play and Capture" button to start transferring the miniDV tape into DVD video.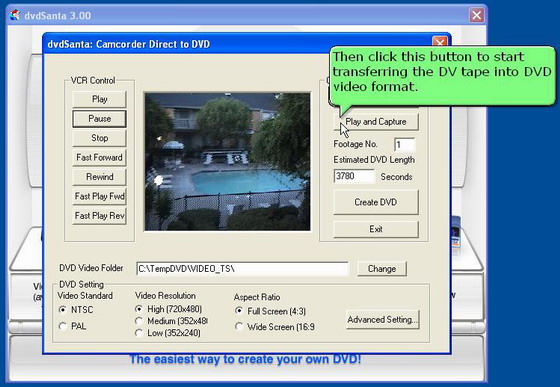 Now the transferring begins. Wait until it ends. If you want to stop in the middle, click the cancel button. After the transferring completes, click "Create DVD" button to burn your DVD video.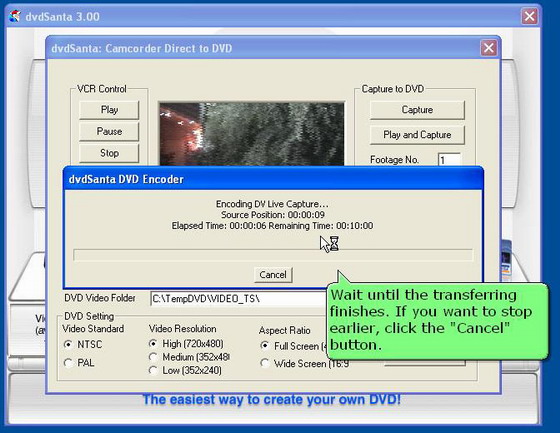 dvdSanta has done preparing the DVD video, now it's time to burn your disc.
Before you burn the disc, you can use a software DVD player such as PowerDVD to examine the DVD video created by dvdSanta. The DVD video is stored under c:\TempDVD\VIDEO_TS folder.
Now you can insert a blanc DVD-R/+R disc in your DVD burner now and click "Yes" to continue.
If you want to burn this DVD disc later, you can click "No" button now and quit dvdSanta. The DVD video is stored under C:\TempDVD\VIDEO_TS folder. You can burn it later using dvdSanta and follow "How to Copy a 4.7GB Single Layer DVD movie"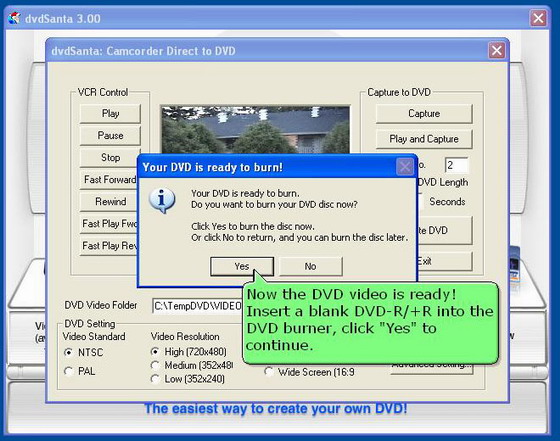 If you are a using DVD+R/RW disc, just click "Burn!" and wait dvdSanta finish the burning job. If you are using a DVD-R/RW disc, you should select burning speed to 1x,2x,or 4x, then click the "Burn!" button to burn the disc.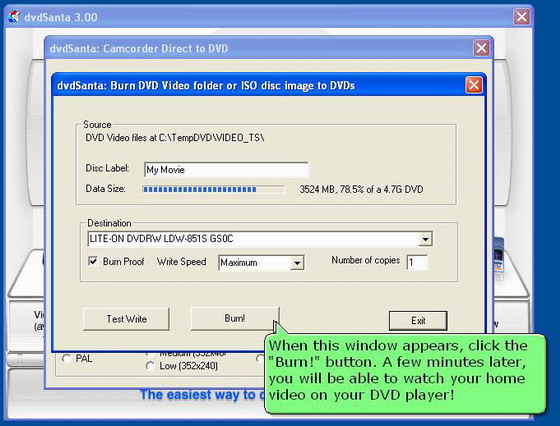 Done! When the burning is finished, you can play your newly made DVD in your DVD player and watch the home video on TV!